Gossip is essential to the social fabric of the workplace: it's science! And it's also the law, as one employer found out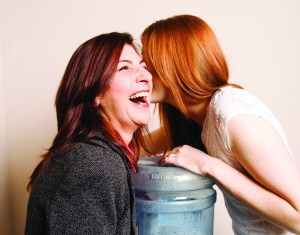 Gossip generally gets a bad rap, but a psychological study indicates that it's actually critical to maintain order in social groups such as the workplace.
Researchers from Stanford University divided 216 participants into groups and asked them to play a game which could earn their teams money. As part of the game, individuals could make choices which would benefit themselves to the detriment of the group. But between rounds, the groups were given time to share information about individuals with other team members, and then decide whether to exclude particular participants from their teams.
The opportunity to gossip was found to be beneficial to the teams by allowing them to make informed decisions about who to rely on.
"Groups that allow their members to gossip," said Feinberg, "sustain cooperation and deter selfishness better than those that don't. And groups do even better if they can gossip and ostracize untrustworthy members. While both of these behaviors can be misused, our findings suggest that they also serve very important functions for groups and society."
Gossip also served another purpose: encouraging individuals to look out for the interests of others. As selfish group members realized they were being ostracized, their behavior changed when they returned to their teams. "Exclusion compelled them to conform to the more cooperative behavior of the rest of the group," the researchers wrote.
Other research also indicates that gossip is a good source of information: 28% of employees say office gossip is their first source of company news (Opinion Research Corp, 2008).
Even if you wanted to prevent gossip in the workplace, though, the National Labor Relations Board has ruled against no-gossip policies. A recent case in Georgia saw Laurus Technical Institute prosecuted for its harsh employee relations techniques, which included a policy stating:

"Gossip is defined as follows:
1) Talking about a person's personal life when they are not present;
2) Talking about a person's professional life without his/her supervisor present;
3) Negative, or untrue, or disparaging comments or criticisms of another person or persons;
4) Creating, sharing, or repeating information that can injure a person's credibility or reputation;
5) Creating, sharing, or repeating a rumor about another person;
6) Creating, sharing or repeating a rumor that is overheard or hearsay…
If an employee is found to have been involved (instigated, encouraged, or contributed to) gossip against another employee, a written warning is provided to the employee and the employee is directed to immediately cease the gossip. … Further incidents will result in further disciplinary action and may include termination."
When an employee was fired for breaching the company's no-gossip policy, she brought the issue to the NLRB. The judge found the policy prohibited free speech and was overly broad and ambiguous. The company was ordered to give the employee back pay for illegal termination.
You might also like:
Teen sacked for wearing Broncos jersey in Washington workplace
Stolen trade secrets land ex-Korn/Ferry recruiter in prison
The lighter side: Boss sells business to fund employee's health care