The leading Republican presidential candidates kicked off their party's fourth presidential debate by rejecting a minimum wage hike, saying it will increase unemployment and put the United States at a competitive disadvantage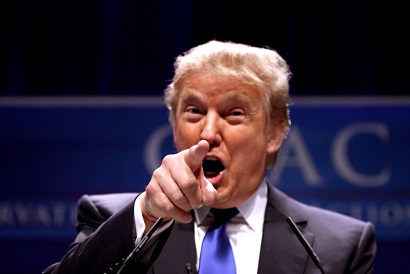 "I hate to say it but we have to leave it the way it is," billionaire Donald Trump said of the minimum wage, now $7.25 an hour as set by the federal government. "We can't do this if we are going to compete with the rest of the world."
Ben Carson, a retired neurosurgeon who is running neck-and- neck with Trump in the polls, argued that raising the minimum wage leads to joblessness, "especially in the black community." Senator Marco Rubio added, "If you raise the minimum wage you're going to make people more expensive than a machine."
Though not all of the eight candidates on the stage addressed the question about the minimum wage, Ohio Governor John Kasich was the only one who spoke up in favor of an increase. Kasich, who has emphasized his blue-collar roots, argued for a "modest increase," because, he said, "people need help."
After trying to reassure donors and supporters about his campaign's staying power following a poor debate performance two weeks ago, Jeb Bush entered Tuesday evening's Republican presidential face-off with more at stake than any of the other seven candidates joining him on stage at the Milwaukee Theater. The former Florida governor, who has seen his poll numbers collapse, pledged to be stronger this debate, and recovered in his first question after appearing initially nervous.
He insisted that the U.S. can "get to four percent growth" with tax cuts and won applause when he called for a rollback of Obama's regulations and when he attacked both the president and his former secretary of state, the front-runner for the Democratic nomination.
"Hillary Clinton has said that Barack Obama's policies get an A. Really? One in 10 people right now aren't working or have given up altogether, as you said. That's not an A," Bush said. "One in seven people are living in poverty. That's not an A. One in five children are on food stamps. That is not an A. It may be the best that Hillary Clinton can do, but it's not the best America can do."
The debate, hosted by Fox Business Network and the Wall Street Journal, focuses on economic policy and jobs. Following Republican criticismof the moderators in the last debate, hosted by CNBC, tonight's questioners have pledged to keep the conversation more policy focused. It follows an undercard debate in which four candidates who did not have the polling numbers to make it to the main event debated over tax, trade and monetary policy—and over who would be the best candidate to face Clinton.
Both New Jersey Governor Chris Christie and former Senator Rick Santorum suggested that politics has motivated the Federal Reserve's policy of low interest rates. Santorum accused the Fed of "overprotecting" Obama.
Former Arkansas Governor Mike Huckabee defended his plan to shift from an income tax to a consumption tax, shrugging off concerns that it would put a damper on the economy. "Do you know an American who will just stop spending?" Huckabee asked. While Louisiana Governor Bobby Jindal attacked Christie as a "big government Republican," Christie focused his fire on Clinton, saying that "she will drown us in debt" and accusing former secretary of state of helping to engineer a "weak and feckless foreign policy" that has empowered China.
If he is elected president, Christie promised, "I'll fly Air Force One" over the islands Beijing is building in disputed waters of the South China Sea.
In the later debate, Bush needs to convince increasingly skeptical supporters and donors that he's still a viable candidate, as his onetime protégé, Senator Marco Rubio of Florida, gains momentum and support from the establishment and donor class.
Bush, who dropped to four percent in a pair of national polls last week, planned to use the debate highlight his conservative record as Florida governor, according to an e-mail the campaign sent donors ahead of the event.
The e-mail, obtained by Bloomberg, suggested that Bush's targets would be Obama and Clinton. Bush was roundly criticized after the last Republican debate in Colorado for attacking the Senate attendance record of Rubio, who is 18 years younger than Bush and is widely viewed by Republicans as the future of the party.
"Washington D.C. is broken and Jeb is a proven conservative disruptor who has a plan to do the job," according to the Bush campaign email, sent by finance director Heather Larrison. "Nobody else in the field, Republican or Democrat, can claim that mantle. That is what Americans are looking for."
Like Rubio, Senator Ted Cruz of Texas will be trying to build on the momentum he's generated since the last debate on Oct. 28. Also on stage will be Senator Rand Paul of Kentucky, and former Hewlett-Packard chief executive Carly Fiorina.