Bone, with Silian Rail type? Eggshell, with Romalian type? Subtle off-white coloring with a watermark? The famous scene of business card envy in the film American Psycho may be closer to the truth than you'd think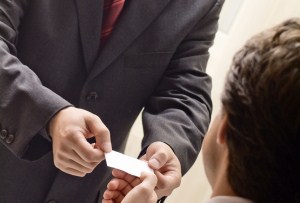 Do you long for better typography? Does embossed lettering make you green with envy? Would a watermark make you swoon? Then maybe you're among the scores of business people who are unhappy with their business cards and feel embarrassed handing them over.
The crowd-sourcing marketplace website DesignCrowd.com.au surveyed 1,000 Australian businesses and found that 43% of business owners are dissatisfied with the way their business cards look.
The survey also found that although 88% of those surveyed still swapped business cards when meeting a new contact, 40% of them weren't happy with the cards they were giving out.
Dan Ferguson from DesignCrowd was surprised by the number of people who dislike their business cards.
"One of the best ways to stay connected with people you meet in the business community is by first exchanging business cards, so it's surprising to know that so many are unhappy with them.
"Aussies still want to use business cards, with 82% saying they are important. Business owners need to take the next step to redesign and reprint, so that their employees can feel proud and happy when they hand them out."
According to Seattle-based entrepreneur and analytics expert Neil Patel, the look, feel and message on a business card will help determine how people view you and if they will remember you.
"When you leave a conversation and the other party has your business card, your identity is that piece of paper," he wrote on his blog
Quick Sprout
.
"Because of this representation, your business card should not only state who you work for, your contact information and what you do, but it should also state something about you. Not in a written sense, but more so on the overall image it creates about you."
Patel pointed out that his own business card was designed using a thick, soft card, rounded edges, rounded typography and the color green to give the impression that he is a warm, friendly person.
Tips for creating business cards
Choose the appropriate color for the image you are trying to convey
The quality of card you use says something about you, so don't go for cheap paper or a material people can't write on
Make sure your card is unique enough to stand out in a pile
Choose a font that is easy to read and best represents you
The feel of your card is important – a soft card with rounded corners gives the impression of a soft, gentle person, while a hard card with sharp corners can represent a corporate, structured person with a more rigid attitude