How many resumes cross your desk with a philosophy degree? LinkedIn's new feature shows the degree may be more useful than it sounds.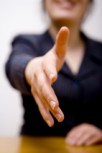 There aren't a lot of jobs that list philosophy degree as a requirement, or even a possible qualification. However, a Hootsuite blogger says it's more useful than you might think.

LinkedIn recently launched a new feature called the Field of Study Explorer, aiming to let high school and college students determine what major will lead them into a field that interests them.