Most resignations letters are a cut-and-paste affair with formal language and a respectful tone. Most. Not all.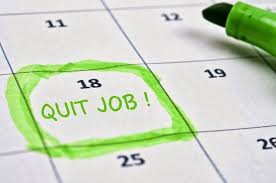 The foul-mouthed flight attendant
Veteran air steward Steven Slater saw red after one passenger accidentally knocked him on the head before calling him a motherf***er.

In a somewhat angered response, he hijacked the plane's PA system and announced his unexpected departure to the full aircraft:

"OK, I've had it. To the passenger who called me a motherf***er: F**k you. Those of you who have shown dignity and respect these last 20 years, thanks for a great ride, but I've been in this business for 28 years and I've had it. That's it. I'm done, motherf***er."

Sound exciting? It only gets better…

Slater then took two beers from the drinks trolley, inflated the emergency chute, and slid down onto the tarmac, dodging the grasp of the plane's first officer.

Fleeing the airport, he drove home, only to be arrested by a helicopter-led SWAT team. While Slater may have been in serious trouble with the authorities, his outburst and escape had hit mainstream news and rendered him a hero of the working classes.

Well done Steven, we think.

(Not so) hidden messages
Shortly after the Daily Express was taken over by porn baron Richard Desmond, journalist Stephen Pollard left his job for a new position with the Times.

The takeover had been a largely unwelcome one and Pollard saw his chance to make one parting shot. In his final column, Pollard used the first letter of each sentence to spell out "F**K YOU DESMOND."

While somewhat impressive, there was one problem - Pollard's new employer saw the message and withdrew his offer of a job.

Prostitute-prone politician
In 1973, under-secretary of state for Defence, Antony Lambton was photographed in bed with a prostitute. Rather than offering a whole-hearted apology full of remorse, Lambton's resignation statements claimed that gardening and debauchery were the only pleasures that could distract him from his futile job in government.

Lambton even admitted that he'd forgot the exact number of prostitutes he'd been photographed with.