A scientific study has found that the traditional handshake is still an effective trust-builder – even when one of the parties is a robot.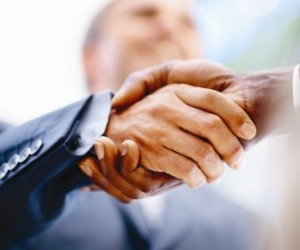 The traditional handshake may have come under scrutiny in recent years for being outdated and unhygienic but a new study has found that the age-old backbone of business etiquette is still an effective trust builder in an increasingly modernized world.
The scientific investigation found that when two people who are located thousands of miles apart communicate through a robot – including physically shaking hands with the machine – co-operation and mutual understanding is developed.
Researchers at the University of Bath set up mock house-sale negotiations using Nao, a 23in-tall humanoid robot designed to accompany people around the property.
A total of 120 human participants were involved and each was randomly assigned the role of buyer or seller – one person was present in the meeting with Nao, while the other took part remotely, through the robot's built-in camera and microphone.
Sensors in the Nao's hand transmitted a signal when it was grasped, making a controller in the distant person's hand vibrate at the same time.
The experiment tested how participants behaved when they did or didn't engage in a virtual handshake and results showed that the act was actually as important when people interacted virtually through the robot as when people negotiate face to face.
The "virtual" handshake created a sense of "connectedness" between both people as they experienced the sensation of grasping a hand, or vibration through a controller during the handshake, said the research team – they even revealed that estate agents were less likely to treat each other unfairly if they'd engaged in a handshake of some sort.
Dr Chris Bevan, of the university's department of psychology, said: "This experiment highlights just how important the symbolic ritual of shaking hands is upon the way people come to judge others as being trustworthy and willing to co-operate."
Experts say the discovery could provoke a revolution in the practice of conducting video conferences and Skype interviews.