The lesson for employers is that whatever your default investment option is matters...a lot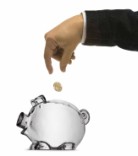 The average 401(k) participant with Vanguard now invests 60% of his or her account balance in index funds, the investment management company has announced. That represents double the proportion of account balances a decade ago.

The company attributes the difference to a climb in plans which automatically enroll participants in index-based target-date funds as the default investment.

"The movement to index investing is good news for participants who are obtaining broadly diversified exposure to the market at a low cost, which can ultimately help them accumulate more money for their retirement," said Cynthia Pagliaro, an analyst in Vanguard's center for retirement research.

However, among older workers, that wasn't the case. Longer-tenured retirement account participants tended to have fully active portfolios, because in the past plans tended to default that way.

For employers, the lesson is to choose the default investment option wisely.

"The results of this report highlight the critical role that plan sponsors play in the investment strategy of participants," Pagliaro said. "Due to these behavioral effects, it is likely that the sponsor's decision will have a profound influence on the investment choices made by their participants."