We find out from a "happyologist" about how unconventional job titles affect HR careers and why you should never include any non-standard title on a resume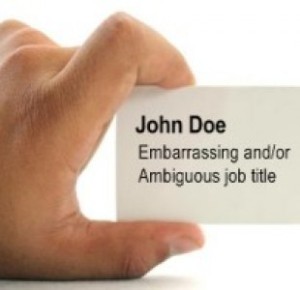 Chief Experience Officer, Chief People Officer, Chief Culture Officer, even Director of Fun: as the role of the HR professional has shifted towards more intangible elements of companies, so have common HR job titles.

But is it just a cringe-worthy trend we can sit out, or will unconventional job titles soon be the norm? We spoke to one HR professional who began her career as an HR associate and is now officially known at her company as Leader of Firm Culture and Associate Satisfaction. Lee Battaglia works for healthcare IT firm Pivot Point Consulting, and also carries the alternative title 'Happyologist', since she is in charge of implementing a culture program of the same name at the company.

"A lot of times such a title can come off as cliché," she said, although Battaglia doesn't hesitate to embrace her own unusual HR titles. "(Happyologist) is a unique title, but it does encompass what the goal is…happiness fuels success."


Battaglia said she doesn't think candidates' unusual titles seem outdated or inflated with machismo. "I definitely don't just look at titles in terms of certain candidates' capabilities or responsibilities or eligibility…I would look beyond just the title."

On the other hand, some large companies are making moves to standardize job titles, says Mitch Stephens, who is president of HRTMS, a software company that specializes in job descriptions.

"What's happened with globalization," said Stephens, "particularly with multinational companies, is there's a need to have positions defined consistently across geographic and divisional boundaries within a company."

"There may be a lot of lay titles and colloquial terms, but beneath the surface there's probably more of a standardization going on than people probably realize," he said.


In the HRTMS database alone, there are 1200 standard occupations in the US, and more than 50,000 corresponding job titles. So what's a Director of Fun to do when networking for jobs?

"Common sense would suggest that maybe on your resume, put a title that's more consistent with what people would expect, and then put in parentheses 'aka happyologist'," advised Stephens.