Employers may struggle to establish just cause after a new ruling suggests courts are moving away from zero-tolerance policies in the workplace.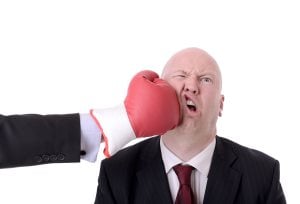 When one man's workplace punch put him out of a job, his employers were certain violent conduct warranted immediate termination – the courts, however, ruled otherwise.

Phaytoune Phanlouvong was fired after he punched fellow Northfield Metal Products employee John Bailey in the face. Apparently, Phanlouvong felt "disrespected" after Bailey bumped into him but refused to apologise.
However, Phanlouvong was awarded 15 months' notice by the Ontario Superior Court of Justice after his dismissal was deemed unjust.

Employment lawyer Lorenzo Lisi says the case is a prime example of courts moving away from the idea that any incident of violence is cause for termination.

"What we're seeing in this case is the courts pulling back from the zero tolerance policy on workplace violence, from it automatically justifying termination," Lisi told HRM.

While the behaviour is undoubtedly unacceptable, Lisi says there a multitude of mitigating circumstances that the employer should have considered.

"There are lots of factors to be considered in any situation like this," said Lisi. "Like the clean record of the employee, a good record of service, whether there was provocation, was he under stress; was their history between the employees?"

Phanlouvong, originally from Lous, had been employed with Northfield Metal Products since he first immigrated to Canada in 1994 – he had no other incident of violence or serious reprimand on his file.

Employment lawyer Scott Chambers said the situation could have been avoided if Northfield Metal Products had followed the progressive discipline policy it had in place.

"The Court appears to have put great weight on the progressive discipline policy that was in place but not used by the employer," said Chambers. "It would be interesting to see if the result would have been similar in circumstances where there was no specific policy in place," he continued.

The Court ruled that the employer acted too harshly in its termination of Phanlouvong and, because it had a specific policy addressing such incidents, the company should have followed it.

Chambers says the case demonstrates the increasing difficulties faced by employers in attempting to establish just cause but said there was a take-away for any HR manager.

"If there is a policy in place to address an issue in the workplace before termination becomes an option, that policy must be utilized by the employer and termination should be deemed a last resort in any circumstance," he explained.