Depression affects one in ten Americans, and when linked to suicide, is the tenth leading cause of death – a figure even higher amongst those under 50. But are you expected to offer staff time off to take care of their mental health?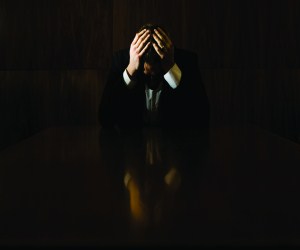 On any given day, one in ten Americans is feeling blue. Not merely down in the dumps, but seriously, medically diagnosed as depressed. And suicide, which is where depression often ends, remains a leading cause of death in the US: for those aged under 25, it's the second-highest cause. For those aged 25-44, suicide is the fourth-highest cause, and amongst those 45-64, suicide is the eighth leading cause of death, according to the Center for Disease Control.
With statistics like that, it's easy to be concerned about the cost of the disease if the FMLA were to cover it. And the courts have been conflicted about it, too. Last week, an 11
th
circuit court rejected a lower court's $1million decision in favor of a former employee who was terminated after seeking leave for his depression. The Florida security company worker emailed his CEO to request 11 weeks of holidays over two years, and when his request was denied, he responded that health professionals had told him this time was "no longer optional". However, he was apparently too shy to point out the specific cause of his suffering: depression and anxiety, manifesting in panic attacks. He did not tell his CEO that he was incapacitated and unable to work.
The Eleventh Circuit court held that the FMLA does not extend protections to any leave that is merely medically beneficial, even if an employee has a chronic health condition. "Giving an employer notice of unqualified leave does not trigger the FMLA's protection," Judge Cox of the Eleventh Circuit wrote. "Otherwise, the FMLA would apply to every leave request."
A 2010 case also showed ADA does not always make excessive protections for those with depression, too. When Charlene Wisbey was sacked from her position as an emergency response dispatcher for the City of Lincoln, Nebraska, she sued, claiming ADA violations. Wisbey's position required her to be calm in emergency situations, after she applied for intermittent FMLA leave for depression and anxiety, the city asked her to submit to a fitness-for-duty examination. It concluded that she was not fit for duty, and her employment was terminated. But the Eighth Circuit found the fitness-for-duty examination was a "reasonable means to ascertain the cause of troubling behavior", and that the employer was in the right.
You might also like:
Can you ban a negative attitude?
Can you fire a whistleblower?
Scheming, secrets and sex: HR's nightmare investigation