Employers who are partial to one-too-many meetings may be put off to find out the real financial impact.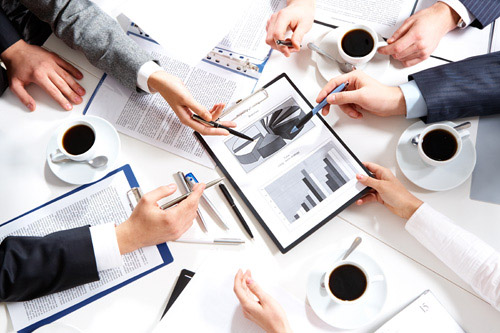 American employers love to call meetings – approximately 11 million are held in the US every day – but they're costing companies far more than many HR professionals realize, suggests one new study.
According to a poll by software providers Attentiv, the average cost of a mid-level meeting sits at $338 - it might sound expensive at first but it's paltry in comparison to the staggering $20,000 price tag attached to meetings with C-suite execs.
And it's not like those upper-echelon leaders are rarely in attendance – according to research from Harvard Business School and the London School of Economics, executives spend upwards of 18 hours per week in meetings – that's one third of their working week.
Attentiv's study also found that, on average, employees thought one third of meeting time was entirely unproductive – so not only are they costing you a fortune, they're also largely ineffective.
Employees' biggest complains about business meetings were:
Meetings are inconclusive and decisions aren't made
Other participants are poorly prepared or disorganized
Certain individuals always dominate and others stay quiet
No results are published
Sabastian Bailey, co-founder of corporate learning consultancy Mind Gym says leaders should consider five things in order to cut down the length of meetings as well as how many are being held.
Is it really necessary?
"Identify the purpose of the meeting and the alternatives," says Bailey. "If it's to reach consensus or make a decision, could you achieve the same outcome by sending a poll?"
Invite fewer people
People should only be there if it's absolutely necessary, says Bailey. "Actively encourage people to decline meeting invitations if they don't think their attendance is vital," he adds.
Establish ground rules
From banning phones or laptops to simply setting a strict agenda – "Spending a crucial few minutes setting ground rules at the beginning of a meeting manages everyone's expectations and avoids veering off-topic later," says Bailey.
Produce an action plan
"For meetings to feel productive, they should end with a clear action plan outlining roles, responsibilities and deadlines," says Bailey – the suggestion to have another meeting should be out of the question.
Stand up
It's been proven – meetings are shorter when participants are standing up. "Consider removing the chairs to keep 'quick get-togethers' exactly that," suggests Bailey.
More like this:
1 in 5 HR managers have asked illegal interview questions
Cutting cubicles: is it right for your company?
What employers want: America's most in-demand degrees