The acclaimed HRD says she's sick of certain "idiots" undermining HR – and you should be too.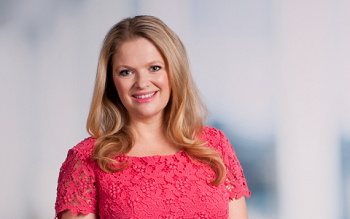 Jo Copeland
is an HR force to be reckoned with – campaigning tirelessly for workplace equality, her organisation became the first in New Zealand to earn the Rainbow Tick and continues to lead the way for other law firms.
Here, the former lawyer opens up about industry gripes and reveals why HR is her preferred career.
If you could give your younger self, or someone entering HR for the first time, one piece of advice – what would it be?
I'd work for a great global company where there are experts from all the major HR disciplines that you can learn from. This is far better in the long-run than leaping into your first sole HR management job with no experience. The opportunities in large organisations are endless and unmatched. I see so many young people being lured away by the first opportunity that comes along these days. Yet it's not always the smartest move.
Is there anything exciting in the pipeline for your HR department?
We are doing some fantastic work on mental health at the moment and it's really paying off. We are also doing some great stuff building cultural intelligence across the organisation. Like most businesses we were looking at performance management but that isn't too exciting.
The bit that really excites me is the potential to change the way businesses operate in the disruption around new technology. We are working on this at the moment and want to incorporate some design thinking principles into how we take advantage of that. It's this stuff that gets me out of bed every morning.
What's the biggest professional obstacle you – or your team – have faced and how did you overcome it?
The biggest obstacle is always resistance to change. I like working on the edge and I love trying out new things - nothing ventured, nothing gained, if you will. In a conservative industry, it can be a bit of a challenge to implement change, but I've found that persistence and using data and facts to answer every objection someone throws our way usually works.
We used this tactic to introduce flexible leave purchasing, which is low-cost (actually it saves costs) but has really high perceived value. This initiative is loved by staff for whom it is a nightmare to juggle the 12 weeks school holidays with the standard four annual weeks. What's more, fostering a supportive environment provides an incentive for employees to return to work. It is something different that no one else in our industry is currently doing. Ultimately, my approach is to never take no for an answer the first time round.
What's your biggest industry worry or concern right now?
I don't have any concerns or worries regarding function in the industry. I think we are an inquisitive and interesting bunch of people who are keen to continue growing. The biggest issue for us is now how to leverage the new technologies coming out, and adapting the workforce of the past to the new ways of working. All of this must be done within a tight fiscal environment.
If you could change anything about the HR industry, what would it be?
I'd stop the nonsense talk about HR needing to change. I'm sick of watching HR people beating themselves up or being slated by outsiders. It's like the idiots in organisations who still use the same old joke about HR being the police. The 'us versus them' mentality is totally counter-productive. It feels like it's become a sport and a cheap easy story for the media to write. There are incredibly dynamic and amazing HR people out there who are leading change within their organisations. That's the stuff that needs to be talked about and celebrated not all that other nonsense. I don't want to read another article about it.
What is the proudest moment or achievement of your HR career thus far?
The most satisfying achievement in my career is definitely becoming the first organisation in New Zealand to get the rainbow tick. After hearing stories of young people feeling suicidal after their families and friends told them it would be career suicide to come out in the legal industry, I decided something needed to change at an industry-wide level.
Getting the rainbow tick was about changing perception. And it really has worked. Some of the other major law firms have now come on board (as have so many corporates) and there is so much talk about it now that I don't think young people will come through anymore with the slightest worry about their sexual orientation. That's a big thing in an industry where its practitioners were originally required to uphold the laws of the land that included laws stating it was illegal to engage in a homosexual act. Imagine what that would've been like 30 years ago for someone who was gay. Upholding the law by day and breaking it by night.
What is the most rewarding thing about being in HR?
I used to be an employment lawyer and spent a huge amount of time working on negative things such as restructuring, redundancies, disciplinary actions and dismissals. In HR you have the opportunity to work so much more on the positive side of things building capability, developing awesome recruitment campaigns, empowering people, finding and promoting the rock stars of the future. I just find it so much more positive than being a lawyer. I much prefer to look for the good in people rather than criticising everything they do. It's a healthier way to live.
How do you predict the industry will change, if at all, over the next five years?
I think data and analytics, technology and flexible working will really start to take hold in the next five years. There will be so many more disruptive players in the market along the lines of Uber and Airbnb. And I think social enterprise will continue to grow, or at least, I hope it will. With people like Richard Branson and Bill Gates turning their minds and endeavours into philanthropic social causes, I think we will start to see some of this make a difference.
What would you like your HR legacy to be?
The one thing that would make me truly happy in my working career is to see 50 per cent of leadership roles held by women, no more commentary on gender in the media, and true equality in the workforce no matter who you are.
More like this:
HR in the hot seat: Tim O'Brien of AT&T
HR in the hot seat: Cindy Grass, Head of Talent and Strategy, Millward Brown ANZ
HR in the hot seat: Carolyn Clark, senior VP -HR, Americas, FHRI Hotels and Resorts