Employees are increasingly checking into work while on vacation but is the move a savvy stress-buster or a bad idea?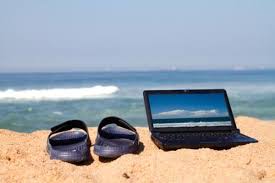 Employees who are supposed to be enjoying well-deserved time off are actually checking into the office at an alarming rate, according to one recent study.
Released earlier this year, the Accountemps survey found that 42 per cent of men and 30 per cent of women check in with their office while on vacation – when it comes to CEOs, the numbers increase to 43 per cent overall.
"Reducing the stress of the first Monday back is one of the main reasons people connect," says Dave Weisbeck, chief strategy officer at Visier. "People worry that if they don't stay a little connected, then they're going to pay for it later. They worry that something important will come up and they'll miss it."
Vancouver-based Weisbeck works with leaders around the world to help calculate the impact of workations on a company's bottom line – he says employers need to take a stronger stance in ensuring the employees take their vacation days seriously.
"When you don't detach from work, don't give yourself a chance to mentally rest and don't have that downtime, then the never-ending cycle does increase stress which can lead to absenteeism or illness," says Weisbeck. "You're just not as productive, you're distracted and you're not able to do your job as effectively."
Connecting while on vacation clearly has its problems but even worse is when employees are reluctant to take any holiday at all. Aside from impact on motivation and morale, Weisbeck warned of an often-overlooked financial burden.
"If you are an employer and you have people with unused vacation time, that time shows up as a financial liability," he told HRM. "That financial liability then goes to your balance sheet and there is going to be a pay-out of unused vacation time."
The financial risk rises if employees are given the opportunity to accumulate their time off.
"You're supposed to pay people out based on their current compensation," says Weisbeck. "People who have been accruing it over the years, their current compensation might be quite a bit higher than their old compensation so you're actually going to be paying more for that vacation time.
"It's far better for an employer to have an incentive to get people to take their vacation from that perspective," he stressed, "and of course it's good for the employee because they get their batteries recharged."
Recent stories:
Alberta exec fired over $8M fraud
Shock for Canada as unemployment rises
Why you shouldn't replace a sick employee