Traditional learning may be turned on its head if micro-credentials take off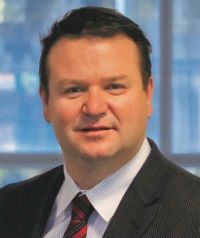 "Disrupt yourself or someone else will do it for you." Those were the words of Professor Jane den Hollander, vice chancellor of Deakin University, at a November roundtable event held in Melbourne.
It's a worthy sentiment, one that was echoed around a table that included Cliff Rosenberg, MD of
LinkedIn
Australia, New Zealand and South East Asia; Irene Dietrich, senior manager, learning management, talent and culture at
ANZ
; Tim Fawcett, director of corporate and government affairs at Cisco; representatives from Deakin Digital, and others.
DeakinDigital, backed by Deakin University, is putting words into action by shaking up corporate L&D. Professor den Hollander conceded that traditional university and business school courses such
as MBAs were coming under pressure in terms of how much they cost students, and because of the rise of digital and online learning. The demands of employers are also putting pressure on universities to up their game. "We need to provide courses that are digital, sustainable and affordable," Professor den Hollander said.
LinkedIn's Cliff Rosenberg echoed these sentiments: "Problem-solving, teamwork, even leadership – these skills are not developed very effectively through traditional university qualifications. Millennials also have certain expectations around how they will learn."
Enter micro-credentials
The field of micro-credentials, which measure and validate professional experience and represent this in the form of digital badges, has resulted in DeakinDigital working closely with industry bodies, deploying leadingedge technology backed by global education standards to give organisations a modern way to recruit, develop and deploy their people.
These credentials – based on professional capability standards – are a solution to digital disruption. DeakinDigital maintains that tired models of doing business and structuring work have resulted in many businesses fighting to hold market share. It advocates a globally recognised credential system. Professional practice credentials could potentially be the recognition and transportable symbol of capabilities in action. Further, credentials will take into consideration that non-formal experience and capability developed through professional practice is just as valuable as formal learning and that this experience must be recognised to meet the requirements of future work.
For employers, there is more authenticity in credentials because they are tied to reputable assurance of professional practice against a standard that is assessed through independently verified evidence of skills, knowledge and experience. If they are not the sponsor of the credential, the employer can request the individual provide access to the digital data supporting the credential and, potentially, items such as the evidence collected and information on the workplace/employer and even the assessors.
WHAT ARE CREDENTIALS?
Credentials are a formal guarantee that skills and knowledge acquired through learning and experience have been successfully completed to the agreed outcomes. They:

• use a neutral language focused on applied outcomes, not just learning inputs
• allow shorter, more discrete packages of L&D to be undertaken and recognised focus on authentic assessment and real outcomes from the L&D process
• communicate and digitally record the skill, knowledge and attributes obtained, allowing the holder to attach a digital badge to their online or physical profile
• allow micro-credentials to 'stack' into a macro-credential (qualification) that recognises activities completed in the workplace and/or professional settings outside the 'walls' of the traditional educational provider (eg universities or technical, vocational education and training providers)
• remove time restrictions and costs associated with completing highly structured inflexible degree qualifications


"We see credentials as providing the data to make decisions around how employers deploy and develop people" - Simon Hann
The framework
The credential framework (see below) includes core professional capability standards that global research continues to confirm will be essential components of all jobs in the future. The framework also includes specialist professional expertise credentials developed in conjunction with professional associations (such as ADMA – the Association for Data Driven Marketing and Advertising) or organisations with global expertise in the field of practice.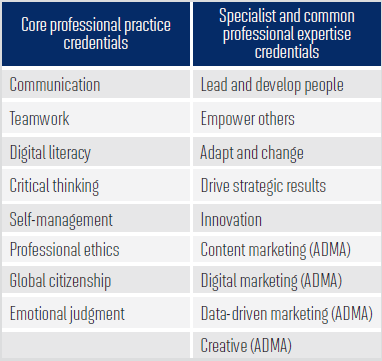 Time for change
Simon Hann, CEO, DeakinDigital, told HRD that up to 80% of leadership development programs failed to deliver the sustainable behavioural change desired. Some of this, he said, had been due to changes in the way people want to learn. "You're not going to wait three months to do a leadership course to find out how to have a performance management conversation," he said. "You'll go online, you'll find a video, or find an expert to take you through that. I can see a shift from expensive investment by employers into their own training content towards a better investment in measuring capability."
Hann cited a report by The Economist sponsored by Google in which organisations and employees were asked their view on the skills required by the workforce of the future in order for organisations to remain competitive. The skills came back as problemsolving, critical thinking, teamwork and communication, and digital literacy. The challenge up to this point has been the traditionally limited ways of measuring those skills. "They've never been expressly developed by organisations. They've focused on greater customer experience, or greater leadership skills, but the underlying capabilities, the make-up if you like, are those soft skills. Good customer experience comes from good communication," he said.
Given the mobile workforce, these credentials are based on global standards. "The fundamentals of good communication, whether it's in Australia or China, remain the same," Hann said.
While its credentials are backed by Deakin University, Hann said DeakinDigital had also "white labelled" the credentialing machine. This meant that partnerships – such as that with ADMA – could be co-branded. "It's not too much of a stretch to think there will be organisations and other industry associations that start to issue their own credentials. So an individual might get a Google credential in customer experience which is essentially measured and assessed to the Google standards for that capability and skill."
The value proposition for HR will come from the visibility and measurement of where the organisation's capability currently sits. "When HR is undertaking planning around how strategic objectives will be met, they must know the capabilities required to get there. It's then targeting development programs around capability, as measured by the credentials. From the workforce-planning perspective, if you're putting together a project team and you know you need people who are strong on teamwork and problem-solving, you need to know who you have with those skills. You can now have an inventory of the organisational capability that meets the profile for that team."
Ultimately, Hann hopes this might shift HR and hiring managers from making subjective assessments of people towards data-driven decisions. "We see credentials as providing the data to make decisions around how employers deploy and develop people. It's verified evidence that someone does have the desired capabilities."